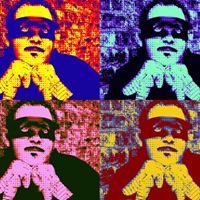 We know we've been out of touch, and we're sorry.  Pink Monkey has actually been busy playing a lot of private events.  We want to make it up to you though, so next Saturday, November 22nd, we're giving you two free ways to hear us:
First up will be the Flabby Hoffman Radio Extraveganza.  Tune in from 1-4 (we're on at 2:15) at http://www.que4.org/, or if you're in Chicago, you can listen on 1680am.  We'll even take some phone calls on the air, so call in and ask us anything at 312-985-7834.
Later that night, we'll be performing a FREE show at the Mutiny.  Its our way of appologizing for being out of touch.  Come out and enjoy some really cheap drinks with us.  We'll play some music too.  We'll showcase some of our new stuff that will be on the next album.  If you want to hear what this is all about, come out and say hello!